Bishop Michael Gielen was born in Cambridge and raised in Tokoroa, the son of Henk and Maureen Gielen and the oldest of six siblings.

After studying at Holy Cross College in Mosgiel he was ordained as a priest in 1997 in Tokoroa by Bishop Max Mariu, SM, (the first Māori Catholic bishop of New Zealand). He has been a priest for 24 years serving in Gisborne, Hamilton, Steubenville – USA, Mt Maunganui, Rome – Italy, Director of Formation at Holy Cross Seminary and most recently as Auxiliary Bishop of Auckland.
Bishop Michael was ordained Auxiliary Bishop for Auckland Diocese on 7 March 2020 - the deacon at the ordination Mass was his father, Deacon Henk Gielen.
Bishop Michael counts his Catholic faith and his family as the greatest blessings of his life; through them he has come to know Jesus in the most profound way. Sharing this Good News is his life's-work.
He is also a keen cyclist. In 2015 he and eight seminarians of Holy Cross Seminary cycled for 33 days from Cape Reinga to Bluff to promote vocations for the priesthood. His other passions included rugby and cricket, which he played, and just about all sports going.

He always has a book "on the go", covering most genres, latterly he has enjoyed NZ historical novels. He loves journeying with people from every walk and background of life; they have made him who he is.
Bishop Michael's coat of arms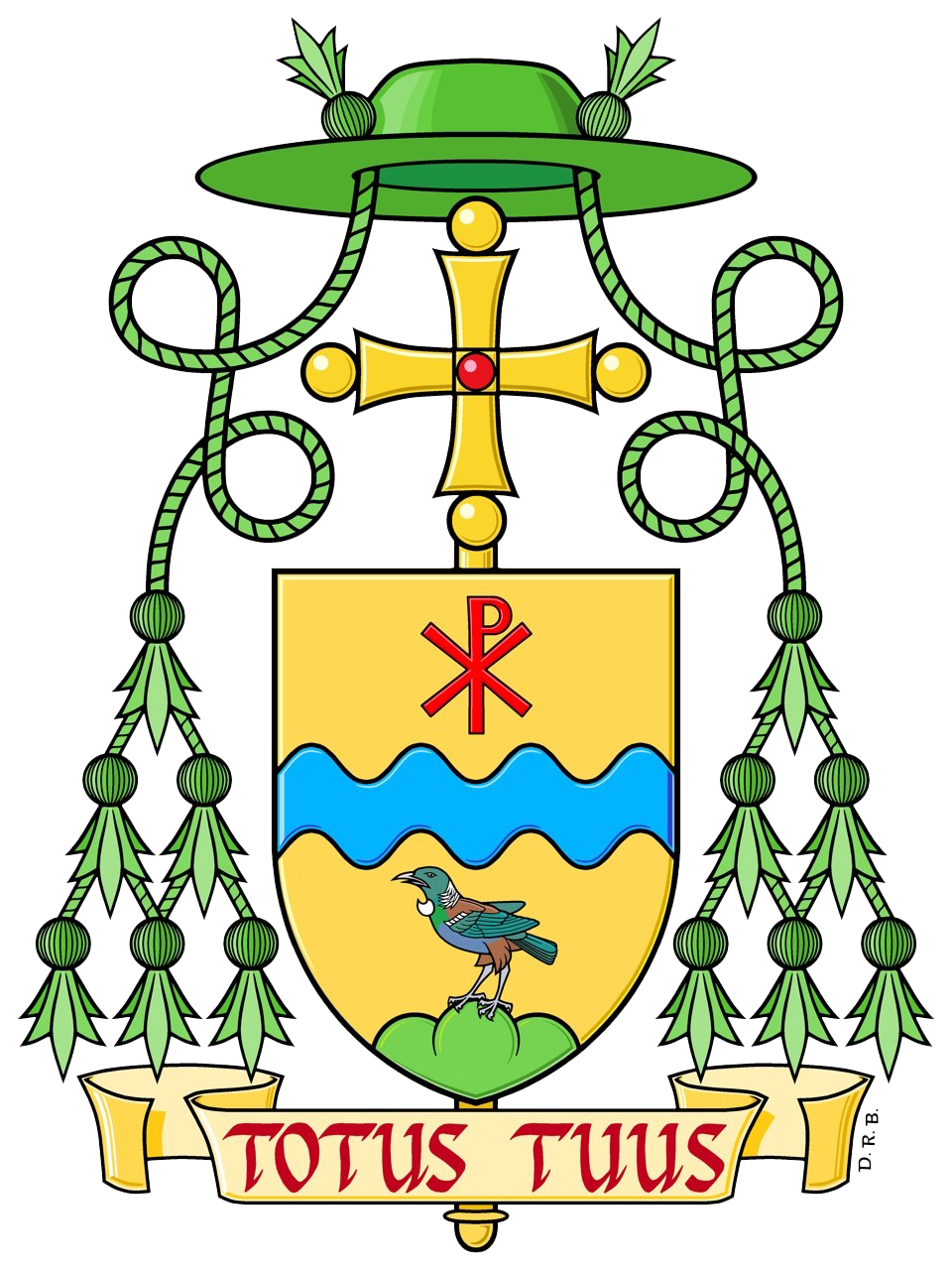 The Bishop's personal coat of arms is blazoned in heraldic terms:
Or, a fess wavy Azure; between, in chief the Christogram Chi & Rho Gules and in base upon a trimount issuant in base Vert a Tui (Prosthemadera novaeseelandiae) statant Proper.
In plain English, the arms may be described:
A wavy blue band bisects a gold shield with the Christogram Chi Roh in red in the upper part of the shield and, in the lower part, a Tui in its proper colours standing on the central of three green hillocks.
The various elements in the arms make the following references:
The blue and gold are the principal colours of the arms of Pope Saint John Paul II.
The blue central wavy band also references the Virgin Mary, to whom Bishop Michael has always had a deep devotion, and the Waikato River which he has lived close to for much of his childhood.
The trimount or green hillocks in the base reference the rolling hills that have featured in Bishop Michael's life: Maungatautari, Pirongia and Rangitoto.
The Tui bird is another personal element, the Bishop having a spiritual connection with the bird and its magnificent voice from his earliest days.
The Bishop has taken as his own the motto Totus Tuus, translated All Yours, in reference to the commitment of his life to Jesus through the intercession of Mary.
It is significant this motto was also that of Pope Saint John Paul II of blessed memory.

The Bishop's arms were designed by Richard d'Apice AM of the Australian Heraldry Society and Father Guy Selvester and were rendered by Roger Barnes of the Heraldry Society of New Zealand.